Accommodation in Crimea, best hotels in Crimea, sightseeing tours to Crimea
Bukovel
Hotel
rating:

Prestige

| location:

Украина (Ivano-Frankivsk Region, Polyanitsa)
Located in a picturesque place, in 920 meters above sea level, the tourist complex of ski resort Bukovel offers ideal services for skiing in the Carpathians. Tourist Complex Bukovel has been working since 2002. Accommodation in Bukovel is offered in wooden two-storey cottages (four rooms in a cottage), twelve section block cottage (built in 2007), villas-chalets (detached two-storey houses with a kitchen, sauna and a private garage).
16 modern cable ways (2 bow cableways, a two-chairs cableway, a three-chairs cableway and 12 four-chairs cableways) are operated on the mountain slopes (mount of Chorna Kleva 1246 meters, mount Dovga 1372 м, mount Bukovel 1127 meters). Total throughput capability is 33 000 people per hour. Total length of alpine skiing tracks of different complexity is 53 kilometers, 100% of the tracks are equipped with artificial snowing by the company "Technoalpin". All the tracks are provided with life-saving systems and flattening by re-tracksby "PRINOTH". To meet the needs of the hardest-to-please customers two tracks are supplied with lightening systems for skiing in the night time (elevators 1R, 2R).
Accommodation Terms and Conditions:
Check in: 14:00, Check out: 12:00 after breakfast;
Minimum stay is 4 days (Monady - Thursday) or 3 days (Frimday-Sunday)
On arrival please address reception area;
Required documents : passport;
Children of any age can be accommodated;
Extra bed is provided for children of 5+ y.o. and adults at net cost.
Children aged from 12+ y.o. are accommodated at the tariff on an adult.
The price includes in the period 26.11.2013 - 07.04.2014: accommodation, boarding plan of your choice: BB - breakfast. Meals are served in a restaurant of Bukovel complex for a specified amount.
Medical insurance is mandatory on all adventure and skiing tours. Tour participants are responsible for purchasing medical insurance to avoid unfortunately loss of funds in case of emergency or illness. If you have your life insured by any other insurance company except for the one suggested by Laspi, we will request a written refusal from our life insurance services.
Extra bed is provided for children of 5+ y.o. and adults at net cost.
The price excludes: insurance.
Please Note!
Tourist medical and accident insurance during your stay in / travel to Ukraine is obligatory and is provided by your Insurance Company.
Insurance policy should provide a tourist with medical assistance and compensation in case of an insurance accident in the country (place) of his/her temporary residence.
Individual transfer:
Surcharge for the air-conditioned car -- 30%
Directions:
Direction: by the train, airport or airplane to the Ivan-Frankovsk, Ternopol, Lviv, Chernovtsy, then take a bus to settlement Polyana. (TC Bukovel).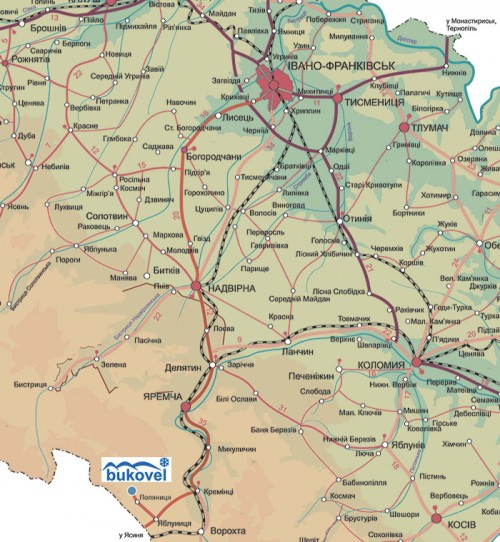 Take public transportation (a train or a bus) to Ivano-Frankovsk, Ternopol, Chernovtsy, or Lvov.
Ivano-Frankovsk – Bukovel - 110 km
Lvov-Bukovel – 245 km
Ternopol - Bukovel - 250 km
Chernovtsy - Bukovel - 160 km
By air you can reach Ivano-Frankovsk or Lvov
Ivano-Frankovsk – Bukovel - 110 km
Lvov-Bukovel – 245 km
Crimean Enterprise 'Laspi'
Head office, Sevastopol
Private Enterprise "Crimean Enterprise 'Laspi'"
Office in Kiev
Private Enterprise Bajenov V.V.
Office in Moscow
Limited liability Company "Laspi"
Gogolya Street 10,
Office 2.
Phone: +38 0692 54-25-25 (multichannel)
Fax: +38 0692 54-33-68
E-mail:
Detail

Obolonsky Avenue 26,
office 603
("Minskaya", "Dom Byta 'Obolon'" undreground station)
Phone: + 38 044 501-03-92
Phone: + 38 044 592-20-04
E-mail:
Detail

Pyatnitskaya Street house 6/1,
building 1
(Novokuznetskaya undreground station)
Phone: +7 495 221-22-06
E-mail:
Detail